Upcoming Events!
MCF Open House
On April 28th, MCF will open its doors and invite members of the Folsom community into our mosque.
Have questions about Islam?
Curious about the mosque?
Just want to try some awesome snacks?
We invite everyone to come visit on Saturday, April 28th from 11am to 4pm at 391 South Lexington Drive, Folsom CA 95630.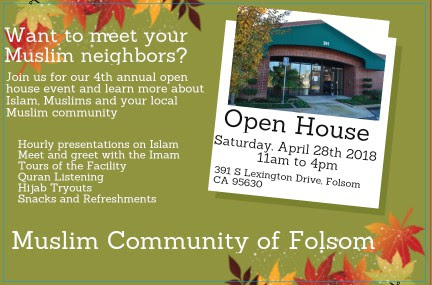 MCF YOUTH QIYAM NIGHTS
MCF YOUTH QIYAM NIGHTS THIS COMING WEEKEND.
FORM(LINKED) MUST BE COMPLETED BY LEGAL PARENT OR GUARDIAN. ONLINE REGISTRATION IS MANDATORY TO ATTEND! Please see flyer for more details.
Event Date: GIRLS Friday, April 20th | BOYS Saturday, April 21st from ISHA to FAJR
Adult chaperones will be present during both nights.
Event Address: 391 S Lexington Drive, Folsom, CA 95630
Age Limit: Grades 8 and above
Contact Abdulrahman at (612) 501-7609