MCF General Body Meeting in Family Night - Friday April 7th
MCF will have its general body meeting in the upcoming family night onFriday April 7th Inshallah. All MCF members are requested to attend. The MCF board will give an update on past year acitivites and members will get a chance to give input and ask questions. We will also have a membership drive that night to register new members.
Program:
Dinner 6:30pm to 7:30pm
Maghrib - 7:34pm
After Maghrib - General Body Meeting
Isha - 9pm
Address : MCF, 391 S Lexington Drive, Folsom CA 95630
ICNA Sacramento's Annual Young Muslims Islamic Quiz - Saturday April 8th 2017
The annual Young Muslim Islamic Quiz by ICNA will be on Saturday April 9th, 9am to 2pm
Inshallah. For more details and registration you can click here or see the flier below.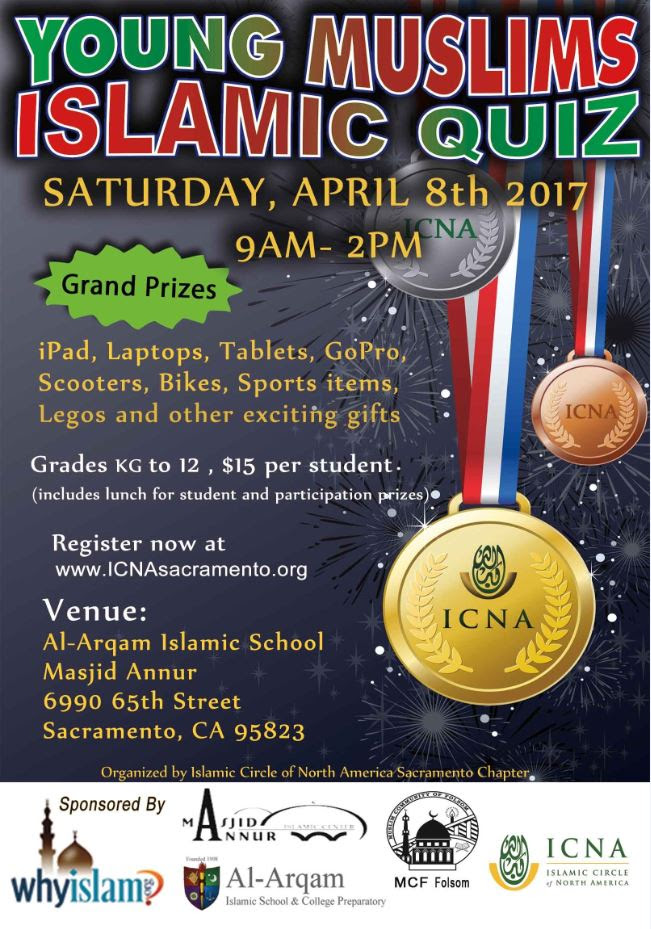 MCF Programs & Classes
Sisters' Dar ul Quran & Tafseer Class - Thursdays
Led by Imam Aamir
Ages: All (recommended high school and above)
Time: Every Thursday Evening -New Time- 7:30pm as of 3/23/17
Location: Multipurpose room at MCF
---
Arabic Class - Wednesdays & Sundays
Shk. Aamir teaches Arabic classes every Wednesday and Sunday. This is not a new class but anyone can join. Class is open to both brothers and sisters.
For further info, please contact Shk. Aamir at aamirun82@yahoo.com or Br. Sajid at 408-207-5141.
Time: Every Wednesday and Sunday evening
Location: Multipurpose room, MCF
---
MCF Youth Class for Girls
CURRENTLY ON BREAK, subscribe to our email list for news on when program resumes
There will be a weekly youth class for girls covering the topics of Tafseer, Fiqh, Hadeeth, and stories of Sahabiyyat in MCF every sunday starting December 6th. Sister Sana who is a Hafiza and Aalima will be teaching the class. Please contact news.mcf@gmail.com for full details.
Ages: 10-19
Time: Every Sunday evening
Location: Suite 104, west corner of FEA school building
---
MCF Sunday School
Kid's language classes will be held before the Sunday School program. Bengali class will start at 10AM, Urdu and Arabic language class will start at 10:30AM, and regular school will start at 11AM.
(Bengali classes are only held on alternate weeks)
Tuition fees are $120 for the 1st student and $100 for each sibling. Checks should be payable to MCF (please mention the student name clearly on the checks).
---

MCF Fajr Breakfast Program
Please join us for a short talk by Sheikh Aamir after Fajr on the Fourth Sunday of every month. Right after the talk, there will be a small dawn walk, and then MCF will host morning breakfast and tea with the participants.
---

MCF Family Night Program
Please join us, on the the first friday of the month for the MCF Family Night Program. Enjoy fine catered food, time to chat up friend both old and new, and a special lecture by a visiting scholar. Sign up for our email list to keep up with all of our events! (This event may be postponed if there is another large event in the month.)
---
For more info on any of these programs, please email inquiries to news.mcf@gmail.com